Time is passing by way too fast! It's already the 5th time to bake a bread for World Bread Day following Zorra's announcement.
This time I got my inspiration from the swedish freelance designer and baker Martin Johannsen who shares his recipes at Pain de Martin but has also written two bread books (Surdegsbröd and Enklare Bröd). As I love (and often bake) his Prototyp No.1 I was very curious about the SKÅLLAD HAVRE OCH SURDEG, a bread with rye sourdough and toasted oatmeal.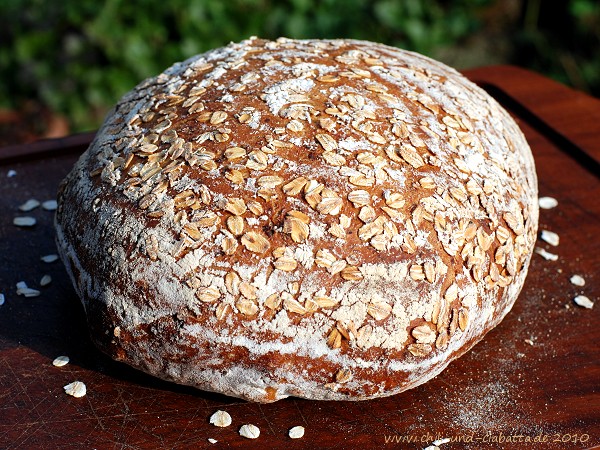 As hoped for the bread turned out really great: it has a nice crisp crust, an open crumb and a wonderful flavor.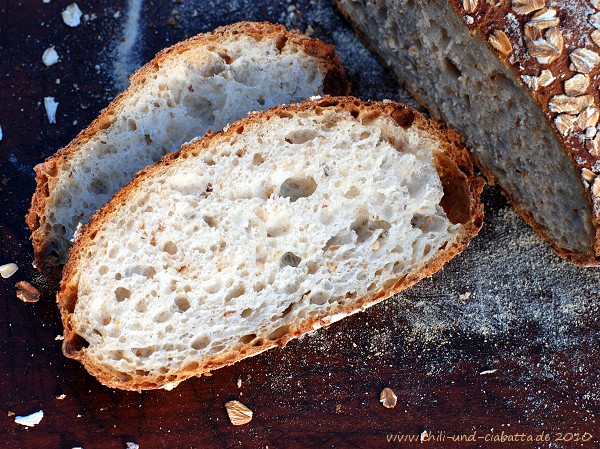 Martin doesn't use a kitchen machine for these breads. He shows us his easy folding technique in this video - I cannot but highly recommend it!
Das deutsche Rezept für das Brot mit Sauerteig und gerösteten Haferflocken gibt in meinem Brotkasten.
My entries of the last four years:
| | |
| --- | --- |
| -========= | REZKONV-Recipe - RezkonvSuite v1.4 |
| Title: | Bread with sourdough and toasted oatmeal |
| Categories: | Bread, Sourdough, Oats |
| Yield: | 1 Bread |
Ingredients
H
SOURDOUGH
30
grams
 
Rye sourdough
120
grams
 
Bread flour
100
grams
 
Lukewarm water
H
HOT SOAKER
50
grams
 
Oatmeal
150
grams
 
Boiling water
H
FINAL DOUGH
 
 
 
Sourdough
 
 
 
Hot soaker
125
grams
 
Water
5
grams
 
Fresh yeast
300
grams
 
Bread flour
9
grams
 
Salt
Source
| | |
| --- | --- |
|   | adapted from |
|   | Pain de Martin |
| | |
| --- | --- |
|   | Edited *RK* 10/14/2010 by |
|   | Petra Holzapfel |
Directions
The evening before baking:
Mix sourdough, flour and water in a bowl, cover and let ferment overnight preferably at 22-25° C (Petra: Microwave oven with lights on) for about 8-10 hours.
For the hot soaker toast the oatmeal in a pan until golden. Place the flakes in a suitable bowl and add the boiling water (be careful, hot steam!), cover and let rest overnight.
In the morning dissolve the yeast in the water. Pour yeast water into a bowl, add sourdough, hot soaker and salted bread flour. Stir with a wooden spoon until combined. Cover and let rest for 30-45 minutes.
Wet your hand and turning the bowl, fold the dough into the middle (see Martin's video). Cover and let rest again for 30-45 minutes. Repeat this twice and finally let rest for 1 hour.
Flour a banneton (suited for 1 kg of dough) and sprinkle with oatmeal.
Turn out the dough onto a floured working surface, spread it a little bit and then fold the sides into the middle in order to get a nice round loaf. Place the loaf seam side down into the banneton, cover and let proof for about 1 hour.
Preheat the oven to 275° C with a baking stone on the rack in the middle.
Turn out the loaf onto a peel sprinkled with cornmeal and slide the bread into the hot oven, reducing the temperature to 250°C. Pour some water into the oven or spritz the oven with water from a spray bottle. After 15 minutes reduce the temperature to 220°C and bake for another 15 minutes, then reduce the temperature to 200°C. Total baking time 45-50 minutes (Original: 30-35 minutes at 250(-200)°C).
Video Martin
: http://www.youtube.com/watch?v=TEeJm2fPVx4
Journal Martin
: http://paindemartin.blogspot.com/2010/09/ett-annu-battre-havrebrod. html
=====