For Bread Baking Day #30 - Twisted Breads hosted by Living in the Kitchen with Puppies I reactivated a book which I had't used for quite a long time: Leslie Mackie's Macrina Bakery & Cafe Cookbook
.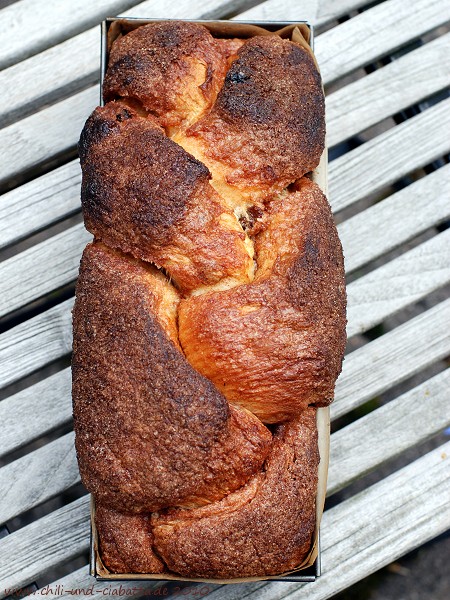 I had marked the Raisin Brioche Twist long ago - now I definitively had a reason to test it :-)
In my first attempt (see the slideshow for details) I used a 9 x 5 inch loaf pan (24 cm Kastenform) which I found was too small - the braided bread almost filled the pan before proofing.
I had absolutely no problem baking the bread with the lovely cinnamon sugar crust a second time as the first one had disappeared quickly. This time I used a 30 cm loaf pan which worked fine.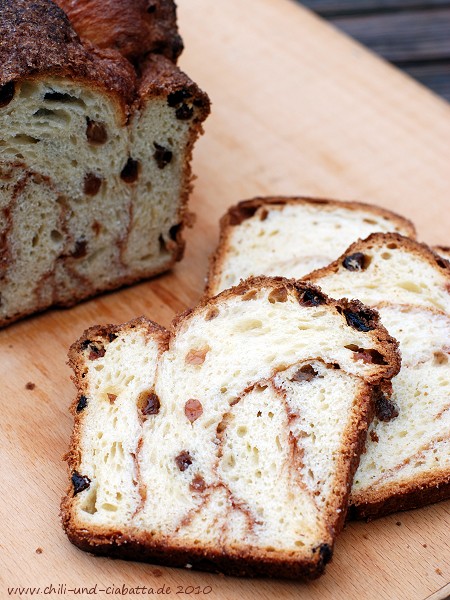 Before braiding the strands are brushed with melted butter and rolled in cinnamon sugar with a little bit of nutmeg - this together with the rich brioche dough gives a great taste!
Other tested recipes from the book:
Das Rezept auf Deutsch gibt es in meinem Brotkasten: Rosinen-Brioche-Zopf mit Zimt-Zuckerkruste. Ich backe das Brot mit gleicher Teigmenge inzwischen in zwei 24 cm-Kastenformen (also in 6 Stücke teilen, 2 Zöpfe flechten). Evtl. etwas länger aufgehen lassen - funktioniert wunderbar.
| | |
| --- | --- |
| ========== | REZKONV-Rezept - RezkonvSuite v1.4 |
| Titel: | Raisin Brioche Twist |
| Kategorien: | Sweet bread |
| Menge: | 1 Bread |
Zutaten
3/4
Tasse
 
Seedless raisins
H
BRIOCHE LOAF DOUGH
1/4
Tasse
 
Warm water (60 ml)
1/2
Tasse
 
Granulated sugar (100 g)
1 1/2
Teel.
 
Dry yeast
1
Teel.
 
Pure vanilla extract
2
 
 
Eggs
3/4
Tasse
 
Whole milk (180 ml)
3 1/2
Tassen
 
All-purpose flour (475 g)
1
Teel.
 
Kosher salt (8 g)
8
Essl.
 
Unsaltesd butter (115 g)
H
CINNAMON SUGAR MIXTURE
1/2
Tasse
 
Granulated sugar (100 g)
1/2
Tasse
 
Light brown sugar (100 g)
1
Essl.
 
Cinnamon
1/2
Teel.
 
Freshly ground nutmeg
H
AND
4
Essl.
 
Unsalted butter, melted
Quelle
| | |
| --- | --- |
|   | adapted from |
|   | Leslie Mackies |
|   | Macrina |
|   | Bakery & Cafe Cookbook |
| | |
| --- | --- |
|   | Erfasst *RK* 17.05.2010 von |
|   | Petra Holzapfel |
Zubereitung
Makes x (9 x 5-inch) braided loaf*
Place raisins in a small bowl and cover with hot tap water. Let sit for 10 minutes while raisins plump, then drain and set aside.
Prepare Brioche dough:
Place warm water and 2 teaspoons of the sugar in the bowl of your stand mixer. Sprinkle yeast on top and mix with a whisk until yeast is dissolved. Let stand for 5 minutes while yeast blooms.
Add remaining sugar, vanilla extract, eggs, milk, flour, and salt. Using the hook attachment, mix on low speed for 3 minutes to start bringing dough together. Switch to medium speed and slowly drop pieces of butter into dough. Mix for 10 to 12 minutes (Petra: about 18 minutes). Dough will be wet and sticky and will have good elasticity when stretched. Let rest in the bowl for 5 minutes.
Pull dough from bowl onto a floured surface and flatten into a rectangle. Sprinkle plumped raisins over entire surface of dough. Starting with a narrow end, roll dough away from you into a log. Fold ends underneath to form a loosely shaped ball. Place ball in an oiled, medium bowl and cover with plastic wrap. Let proof in a warm room, 70 to 75°F (21-24°C), for approximately 2 1/2 hours (Petra: 3 hours at room temperature, 20°C). Dough will almost double in size.
Line bottom and sides of a 9 x 5 x 4-inch loaf pan* with parchment paper and spread Cinnamon Sugar Mixture evenly on a rimmed baking sheet.
Place dough on a floured work surface and pat it into a 6 x 2-inch rectangle. Divide dough into 3 equal pieces and roll each piece into a rope approximately 10 inches long. Brush the strands of dough with melted butter, making sure they are thoroughly coated. One at a time, roll the coated strands of dough in the cinnamon mixture. Line the strands up side by side and, starting at either end, braid the pieces. Pinch ends together to form a seal and fold ends underneath.
Lift braid into lined loaf pan. Brush with melted butter and sprinkle with remaining cinnamon sugar. Cover with plastic wrap and let proof in a warm room for I hour, or until loaf rises to fill three-quarters of the pan.
While loaf is proofing, preheat oven to 360°F (180°C)
Remove plastic and place loaf on center rack of preheated oven. Bake for about 45 minutes (Petra: 55 minutes because the loaf pan was a little bit small and the bread rose a lot). Top and sides of loaf will be dark golden brown. The hot loaf will be very fragile, so let cool on wire rack for 20 minutes before removing from the pan. After 20 minutes, lift loaf out of pan and continue cooling on a wire rack. If needed, run a sharp knife around the sides of loaf and invert pan to remove it. (It's important to remove the loaf from the pan before the sugars cool and stick to the sides.)
Cinnamon Sugar Mixture
Combine ingredients in a small bowl and mix well.
Petra: Wonderful sweet bread! Rich, moist with a delicious cinnamon sugar crust.
*The first time I used a 24 cm loaf pan which was too small. A 30 cm loaf pan is much better.
=====