When I saw the post of Cindystar announcing bread baking day #25 - baking under the tree I immediately remembered a recipe I had read some days before in the bread-bakers digest email list.
What a perfect reason to go to the kitchen and bake a Vanocka, a czech christmas bread.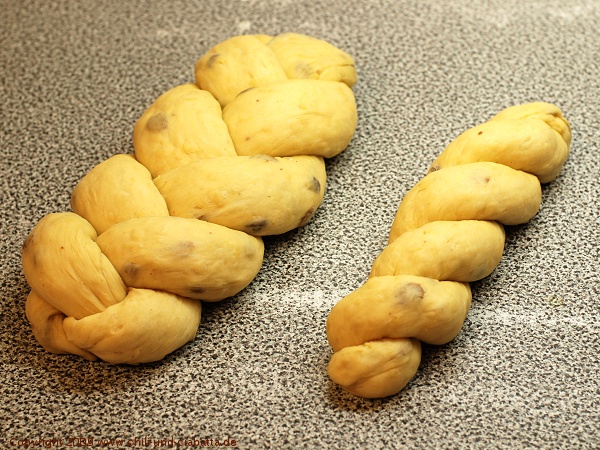 Whereas traditional recipes often call for 3 layers (a 4 strand, a 3-strand and a twisted one) the recipe of Nadine Nemechek only uses two layers.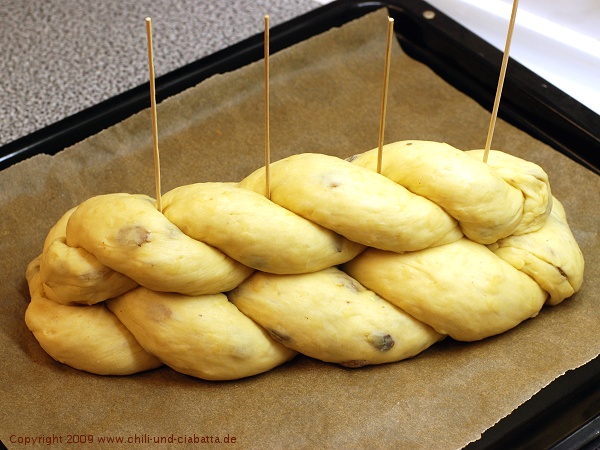 The two layers are secured by skewers as the top braid sometimes likes to slide off to one side. (I could see this on one end of my bread although I had used skewers). I think it would even be better to make a deep depression along the middle of the finished braid for the top twist as I read in another recipe - unfortunately after I had baked my bread.
But perhaps it wasn't perfect because I didn't follow the rules:
Preparing a vanocka wasn't, and isn't, simple and therefore a variety of customs are followed in preparing the dough, braiding and baking it to ensure success. The woman of the house had to mix the dough while wearing a white apron and kerchief, she shouldn't talk, and she was supposed to jump up and down while the dough was rising. ;-)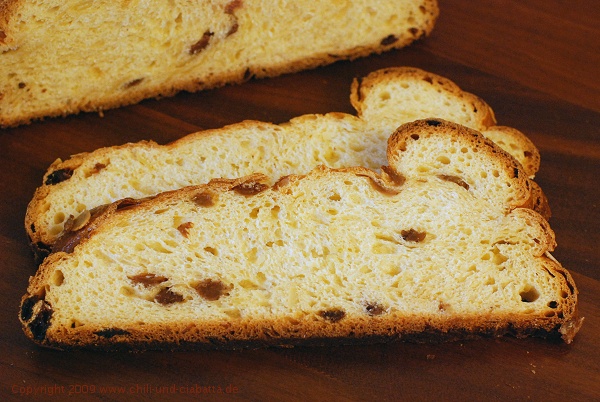 The slices of the Vanocka - very rich, nutty and not too sweet. Delicious.
Das Rezept auf Deutsch gibt es in meinem Brotkasten.
| | |
| --- | --- |
| -========= | REZKONV-Recipe - RezkonvSuite v1.4 |
| Title: | Vanocka (Czech Christmas Bread) |
| Categories: | Bread, Ethnic, Fruits, Holidays, Czech |
| Yield: | 1 Bread |
Ingredients
1
pack
 
Dry yeast
2/3
cup
 
Sugar; divided (Petra: 130 g)
1 1/2
cups
 
Milk; divided (360 g)
1/2
cup
 
Butter (110 g)
1
 
 
Egg
4
 
 
Egg yolks
1
tablesp.
 
Grated lemon peel
5 1/2
cups
 
Flour (700 g Weizenmehl Type 405); more if
 
 
 
-needed (Petra: 1 tb)
1
teasp.
 
Salt (5 g)
1 1/4
cups
 
Raisins (3/4 c, 100 g)
1 1/4
cups
 
Slivered blanched almonds (100 g)
H
GLAZE
1
 
 
Egg; beaten
1
tablesp.
 
Milk
1
tablesp.
 
Butter; melted
 
 
 
Slivered almonds
 
 
 
-Edited *RK* 12/09/2009 by
 
 
 
-Petra Holzapfel
Source
| | |
| --- | --- |
|   | adapted from |
|   | bread-bakers.v109.n044.2 |
|   | original recipe Nadine Nemechek |
Directions
In small bowl combine yeast, 1 tb sugar and 1 c warmed milk (105-115F). Set aside until foamy.
Mix flour, sugar, lemon peel, yeast mixture and remaining milk in the bowl of a stand mixer. Mix for about 4 minutes on low speed, adding egg and egg yolks, then the butter cut in pieces. Add the salt. Knead on medium speed for about 8 minutes, adding 1-2 tb flour if needed until dough is smooth and elastic and begins to clear the walls of the bowl. Mix in raisins and nuts.
Place in large oiled bowl; cover with cling foil. Let rise until doubled, about 2 hours.
Divide dough into 5 pieces, 3 large and 2 small (Petra: 3 x 400 g, 2 x 220 g).
Roll each into 16" lengths (40 cm). Braid 3, twist remaining 2, placing on top of braid*.
Place on parchment paper lined baking sheet. Secure with 4 long skewers. Cover with plastic wrap; let rise to double (Petra: 1 hour).
Preheat oven to 375F (175°C).
For glaze: In small bowl mix egg, milk and butter. Brush over braid going well into the crevices of the braid. Sprinkle slivered almonds over the bread.
Bake 25 minutes, then brush the pale spots (from the rising of the bread) with glaze, continue baking for 20 minutes, then cover upper strand with aluminum foil, bake additional 10-15 minutes until golden brown. Let cool completely. Complete baking time here was about 1 hour - you might use less or more according to your oven. (Skewer test, an instant read thermometer inserted into the center should read about 180°F, 82°C)
Petra: Rich nutty and not too sweet christmas bread.
*in another recipe I read (unfortunately after baking my bread) I saw these directions: With a French pastry pin or the side of your palm make a deep depression (a sort of ditch) along the middle of the finished braid for the top braid (the top braid sometimes likes to slide off to one side).
=====