Wild Yeast as the host of bread baking day #8 has chosen a very beautiful theme: celebration breads especially for spring or birthday breads in honor of zorra who originally initiated bbd.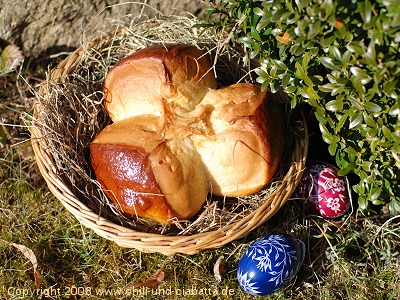 As I was invited to make a post as a guest blogger for the new german cooking portal Küchengötter about an easter bread (which is online now) I carried out research about breads celebrating easter in different countries. So I came upon Pinza or Pinze, a special bread found in parts of Germany, Austria and Slowenia.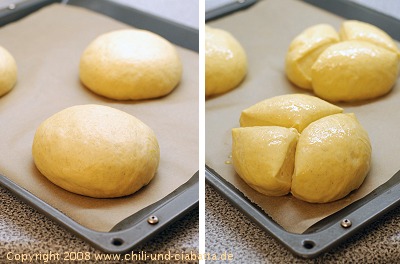 The Pinza is typically cut into three sections. These tree parts stand for the Holy Trinity. Sometimes the Pinza is decorated with a red egg in the middle. By the way, the eggs in red and blue you can see in the pictures I bought from a Czech vendor at an easter egg market. The pattern is painted with white wax on dyed eggs.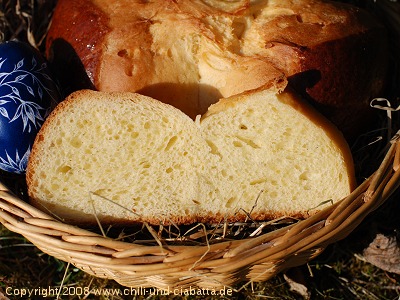 I adapted the recipe from the well-known bakery Rischart in Munich (Original). It uses 2 pre-doughs and the long fermentation delivers an exquisite result. I cannot but highly recommend the bread.
Das Rezept für die Osterpinze auf Deutsch findet sich hier in meinem Brotkasten.
| | |
| --- | --- |
| -========= | REZKONV-Recipe - RezkonvSuite v1.4 |
| Title: | Osterpinze (Easter bread) |
| Categories: | Bread, Easter |
| Yield: | 3 Breads, Austria |
Ingredients
H
FIRST PRE-DOUGH
75
grams
All purpose flour
25
grams
Fresh yeast
65
grams
Milk
H
SECOND PRE-DOUGH
165
grams
First pre-dough
165
grams
All purpose flour
35
grams
Milk
35
grams
Sugar
50
grams
Egg yolks
H
FINAL DOUGH
450
grams
Second pre-dough
275
All purpose flour
35
grams
Milk
35
grams
Sugar
75
grams
Eggs (weight without shells)
75
grams
Butter
5
grams
Salt
1
Vanilla pod: seeds
1
Lemon: 1 tb juice and grated peel
H
EGG WASH
1
Egg
1
tablesp.
Milk
1
pinch
Sugar
1
pinch
Salt
Source
| | |
| --- | --- |
| | Edited *RK* 03/11/2008 by |
| | Petra Holzapfel |
Directions
Dissolve yeast in the milk. Add flour and make a batter. Cover and let stand for 1 hour.
Add the ingredients of the second pre-dough, mix with a handmixer, cover and let stand for another hour.
Add the second pre-dough together with the ingredients for the final dough - except for the butter - to the bowl of a stand-type mixer and mix with the dough hook on first speed for about 3 minutes, then on second speed for about 8 minutes adding the butter in pieces until the dough is smooth and elastic and no longer sticks to the sides of the bowl.
Place the dough into a lightly oiled bowl and let ferment for 1 hour.
Turn out the dough onto a lightly floured work surface and divide it into three parts. Lightly preshape, allow the dough to relax covered for about 10 minutes.
Cover a baking sheet with baking paper.
Give the breads a final rounding and place them on the prepared baking sheet. Let rest covered for 15 minutes, then brush with egg wash. Let rest uncovered for 5 minutes and give them a second brush. Let rest uncovered for another 10 minutes.
In the meantime preheat the oven to 200°C (400°F).
To achieve the typical form of a Pinza make three deep cuts into the loaves with an oiled pair of scissors.
Bake the breads for about 20 minutes then let cool on a rack.
=====