My thanks go to Jennifer (Domestic goddess) and Alberto (Il Forno) who invited us to take part in this year's virtual cookie swap. It seems this will become a nice tradition - I'm already looking forward to all the beautiful entries from every corner of the world!

Whereas last year I shared an old family recipe (Hildatörtchen) this year I present something a little bit out of the common: cookies made from real german Pumpernickel, that means whole rye bread.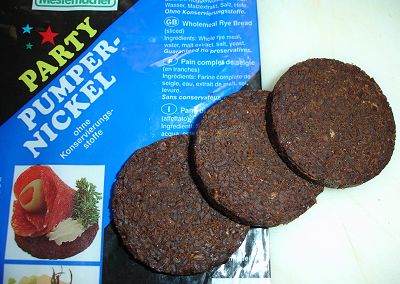 The bread slices are finely crumbled, but there still stay some larger rye berry pieces. This causes the special chewy texture of the cookies. Besides bread they consist of walnuts, spices, sugar, just a little bit flour and beaten egg whites.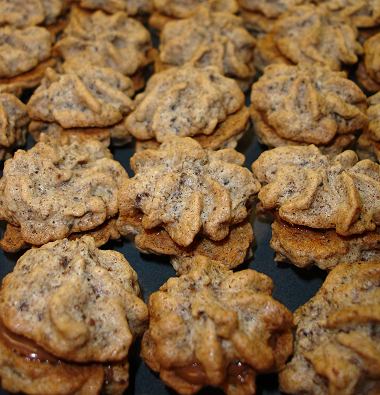 The cookies are piped out with the help of a pastry bag, baked and filled with nut nougat (praline paste) .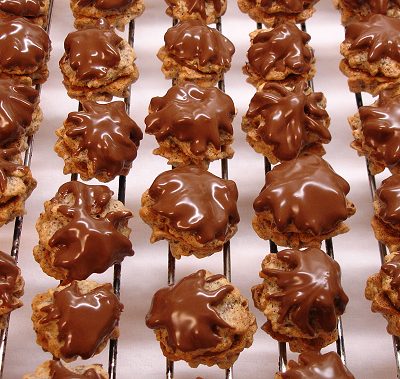 Finally they are coated with couverture (chocolate coating).
========== REZKONV-Rezept - RezkonvSuite v0.99.3

     Titel: Pumpernickel Cookies - Pumpernickelkugeln
Kategorien: Cookies, Christmas, Germany
     Menge: 60 Cookies

    250     Gramm  Walnuts
    250     Gramm  German Pumpernickel bread*
      2      Teel. Cinnamon
      2      Teel. Grated lemon zest
      1      Teel. Nutmeg
      1      Teel. Cardamom
    150     Gramm  Sugar
     50     Gramm  Flour
      4            Egg whites
    100     Gramm  Sugar
    150     Gramm  Nut nougat (praline paste)
    175     Gramm  Chocolate coating (couverture)

============================== QUELLE ==============================
                   essen & trinken 12/84
                   -Erfasst *RK* 27.11.2005 von
                   -Petra Holzapfel

Grind nuts finely with a nut mill. Crumble Pumpernickel as fine as
possible (or mix in a food processor), blend with the walnuts. Add
cinnamon, lemon zest, cardamom, 150 g sugar and flour.

Beat eggwhites with 100 g sugar until stiff peaks form. Carefully
fold in the walnut-pumpernickel mixture.

Preheat an oven to 175°C.

Line rimmed cookie sheets with parchment paper. Fill a pastry bag
attached with a star-formed nozzle (size No. 8) with the dough. Pipe
out star formed cookies onto the sheets.

Bake for 15 minutes in the lower third of the oven until light brown.
Let cool on wire racks.

Spread the lightly warmed nut nougat on half of the cookies and
cover with the other halves. Cool the cookies to let harden the
filling.

In a small bowl melt the couverture over a water bath. Dipp the
cookies into the chocolate and let dry.

Store in an air-tight tin box.

*German Pumpernickel is a wholemeal rye bread made from whole rye
meal, water, malt extract, salt, yeast.

=====